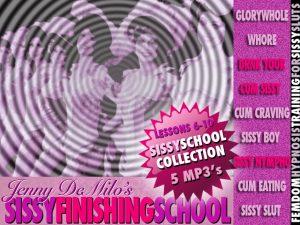 Sissy hypno training though femdom hypnosis. Jenny DeMilo's Sissy Finishing School volume two. Includes five amazing sissy finishing school hypnosis training sessions to tune you in and turn you into the sissy slut you've always wanted to be.
Cum Eating Sissy Slut
Trained to crave and desire cum. Eating cum is what sissy sluts like you need to do every single day. Craving it cum becomes an obsession you can not control. You discover yourself thinking up new ways to get the cum you need like a good little sissy. Always on your knees with your greedy mouth open begging for cock and cum. Trance training for those with a need to give up control of their desire to a Dominatrix who knows what you need and who you really are. Sissy hypno training and CEI hypnosis training session for those that need extra encouragement in their CEI training.
Cum Craving Sissy Boy
Seduced by my hypnotic voice. Your mind controlled by my sissy hypnosis. Feel the change, go deeper and deeper into a sissy hypno trance as the transformation takes over. Trained to accept your station in life as a cum craving sissy boi. Ready to dress up like a sissy and crave cum. You will be used in any way to get it. Feel the suggestions and triggers dance though your body and implant into your mind. Turning you into a sissy boi who craves cums.
Glory Hole Whore
Trained to be suck glory hole cock. Trained to need it and to crave it. Obsessed with sucking anonymous cock and after anonymous cock. Begging to be the center of attention, whoring it up. You cant stop yourself from the desire to suck cock though a hole in the wall. You need it all the time and can't stop thinking about it. It's an obsession you can't control. Drop deep into a trance. Hear the triggers, be programed to need and want and constantly think about being a glory hole whore. You wont be able to resist my hypnotic training.
Sissy Nympho
Powerful femdom sisy hypno trance training. Feel the changes, as you go deeper and deeper into trance an the transformation takes over. Trained to accept your station as a sissy nympho. A sissy nympho who never gets enough and must take more, do mor and fuck more. Sucking all the cock your sissy nympho mouth can take. More cock then you can take, always needing more like a real sissy nympho. Never satisfied always begging for more, more more. Feel the suggestions and triggers dance though your mind and implant. At my direction and sissy training you will be turned into a sissy nympho who can never get enough.
Eat Your Own Cum Sissy
Trained to drink your own cum in preparation for being a cum guzzling sissy bitch, who craves strangers cum and drinks it on the daily. Feel the triggers implant into your mind. Training turning you into becoming feminized sissy, who drinks her own cum. Learn to love it and crave it from others. The more you drink your own cum, the more sissified you will be. The more you will be trained to be a cum sucking whore. Not for those not interested in real sissy slut transformations and are squeamish about being a true whorish slut
Listen: Cum eating sissy slut preview
Listen: Cum craving sissy boi preview
Listen: Glory hole whore preview
Listen: Sissy nympho preview
Listen: Eat your own cum sissy preview
File Format : .zip (5 mp3s)
Price: U.S. $99.00