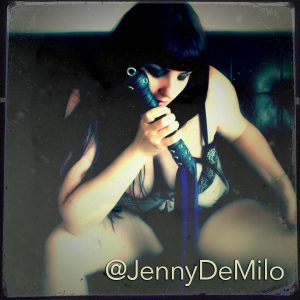 I'm Jenny DeMilo Trance Mistress, professional dominatrix and hypno-domme. Your ultimate Trance Mistress. I've been a professional Hypno-Domme for many years. I have an original femdom hypnosis style. Powerful, intense and mesmerizing. I utilize various audio techniques including binaural beats, whispers, back masking, brainwave training, multi tracks as well as classic hypnosis techniques. Everything someone could want in a trance training session. A session of Femdom Hypnosis With Trance Mistress Jenny DeMilo will leave you breathless and begging for more.
I hold and advanced degree in art from a prestigious art school. I'm currently pursuing legal studies with takes up a lot of my free time. I'm an accomplished equestrian with a small herd of show horses. I can converse on most topics, from the silly to the esoteric. I can make you laugh, I can make you think or I can make you wish you were never born. The choice is of course yours of course. I'm your Italian dream Mistress, tall, strong, playful, creative and demanding. I expect to be worshiped and adored. Good slaves will be rewarded, bad slaves… punished. Femdom Hypnosis With Trance Mistress Jenny DeMilo will make your heart go pitty pat of that you can be sure.
Femdom Hypnosis For The Masses
My full catalog of over five hundred mesmerizing femdom hypnosis recordings are available for your pleasure and delight. Take a look around, listen to some previews. There is something for everyone no matter what your slant or preference. New sessions are release all the time so make sure to check back often. If there's something special you are looking for, I also make custom recordings for deserving pets with the means to make it happen. I only take a few orders a month and I book up fast so do not delay if you dare to make it happen.
Mistress DeMilo