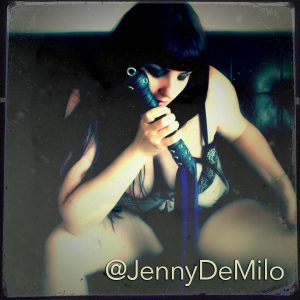 I'm Jenny DeMilo, professional dominatrix and hypno-domme. I've been a professional Hypno-Domme for many years and I have an original femdom hypnosis style. Powerful, intense and mesmerizing. I utilize various audio techniques including binaural beats, whispers, back masking, brainwave training, multi tracks as well as classic hypnosis techniques. A session of mine will leave you breathless and begging for more.
I hold and advanced degree in art, currently pursuing legal studies, I can converse on most topics, from the silly to the esoteric. I can make you laugh, I can make you think or I can make you wish you were never born. The choice is of course yours. I'm your Italian dream Mistress, tall, strong, playful creative and demanding. I expect to be worshiped and adored. Good slaves will be rewarded, bad slaves… punished.
My full catalog of mesmerizing hypnosis recordings are available for your pleasure and delight.
Mistress DeMilo