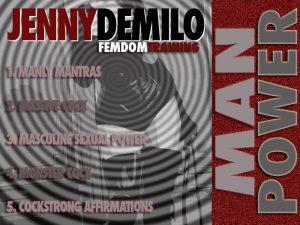 Male performance femdom hypnosis collection.  Five amazing cock, body and mind improvement Mp3s bundled together for a great price break. Get them all now and be a better man.
Manly Mantras
Over hour of repetitive masculine affirmations. Get in touch with and increase that you are meant to be a strong, masculine, sexually charged man. Trained to accept your masculine power. This session should be listened to daily. Reaffirm and condition youself to your new life living as the sexually empowered cock strong man. The man you always wanted to be. If you are just starting your journey into improving your manhood this will get you centered and accepting of your new role.
Massive Cock
Cock Growing femdom hypnosis. You want it and now you can have it. Your cock will grow and grow and grow. When you look down at your cock you will only see a massive huge giant slab of thunderbolt between your legs. Ready to penetrate and rip your partner in two. Cock Transformation at its finest. The illusion becomes real to you and you will always see your own cock as huge and thundering. Getting bigger all the time. You can feel it grow along with your giant massive cum filled balls.
Masculine Sexual Power
Your masculine power and energy will increase. Expand your confidence and sexual prowess. Hear the triggers and grow your sexuality.  Become the man you've always wanted. A man with masculine sexual power, a force to be reckoned with. Give yourself what you deserve, strong intense, sexual masculine power. Be more attractive, your sex appeal will grow. Your sexual power will be undeniable to all those around you. You will be come a masculine sexual creature. With intense passion and sexual power.
Monster Cock
You deserve a giant monster cock. Your cock grow, bigger, thicker and stronger. Grow into the cock you always wanted. A big cock, a fat cock, a monster cock. A little bigger each day, a little stronger each day. I control your cock and I want it big and strong. A monster cock for my amusement.
Cockstrong Affirmations
You deserve a strong, hard, big cock that can fuck for hours. Over one hour of  hypnosis affirmations to help condition you to accept your cock strong power. Be the man you've always wanted to be. A man with a strong cock, a manly cock. Listen every day and give yourself what you know you deserve. A real man with a cockstrong cock.
Listen Manly Mantras
Listen: Massive cock preview
Listen: Masculine sexual power preview
Listen: Monster cock preview
Listen: Cockstrong affirmations preview
File Format : .zip (5 mp3s)
Price: U.S. $99.00